15 Technologies of People Tracking (2019)
People Tracking are technologies that quantify LOCATION PERFORMANCE and ACTIONABLE INSIGHTS for In-Store Optimization and Customer Behaviors.
PRO Tip: In 2019, the PIVOTAL Anonymous Customer Tracking systems for Retail Stores and Shopping Centers include Location Analytics (Demand Benchmarks & People Counting), Facial Recognition (Demographics), and Vision solutions.
The technical attributes of Tracking Technologies are detection, recognition, and predictive analytics of objects in motion.
People Tracking technologies can be Anonymous or Interactive (require consent Opt-In). The solutions can also be Sensor-Based, Device-Based, or require Advanced Analytics.

15 tracking solutions that generate Location & Time-Based Data are:
Vision Analytics
3D Stereo Video Analytics.
Monocular Video Analytics
Thermal Imaging
Infrared Beams
Time of Flight
Structured Light
Raspberry Pi
WiFi (Wide Area Network) Tracking
UWB (Ultra Wide Band) | Radar Imaging
BLE (Bluetooth Low Energy) Beacons
GPS (Global Positioning System) Personal Tracker
RFID (Radio Frequency Identification) Tags & Tracking
Bio-Metrics (Facial Recognition & Anonymous Demographics)
3D Spatial Learning (Augmented Reality)
The complexity of the system depends on the position of objects (i.e. in-store or street), the state of objects (i.e. a person in motion or product image), and the attributes of the object (such as device-based tracking or facial recognition software).
PRO Tip: The #1 Challenge for Solution Providers & Marketing Agencies is HOW to work with brands and retailers, and translate the location and time-based data into meaningful information that will increase store conversions and profits. In 2019, focus on Customer Success.
Why Track People?
The best way to think about tracking people is in terms of business benefits. Location-based data serves a wide variety of sectors, including Buildings, Hotels, Hospitals, Transportation, Smart Cities, and Retail.
Regardless of the market, Location and Time-based data provide information on the foot traffic, occupancy, and demand trends for the physical area.
In Retail, People Counting & Anonymous Tracking solutions are used to compare store performance, mall analytics, and in-store optimization to increase conversions & profits.
Depending on the technology, solution, and vendor, the people trackers provide a wide range of performance metrics, from foot traffic to shopper demographics
Here's the problem –
Many retailers, brands, agencies, investors, and solution providers, are confused over the plethora of technologies, terminologies, and hype.
The following are issues you need to think about & why:
Interactive Vs. Anonymous Tracking
"Even at the highest levels, retailers don't really understand either the rewards or the risks associated with anonymous vs. non-anonymous customer geo-location data." – RSR Research
If there is one thing you should remember is the core difference between solutions that identify shoppers by name (Identity) and those that track people anonymously (random ID).
Interactive technologies require consent. The customer's opt-in is done online, in a digital form, which varies from the operating system (Google or Apple), application (Facebook or Shopify), and the telecom companies.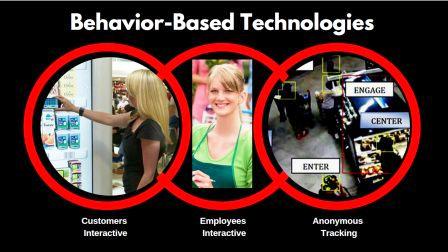 This is important –
Since the customer's consent often belongs to a third party, retailers and brands are now stepping up on the business model of Direct-to-Consumer.
Interactive tracking is an integral feature of digital devices for employees. Most store systems – from scheduling to task management – also generate location and time data.
Anonymous tracking refers to detection, recognition, and predictive path of objects. The object itself is recognized by attributes (i.e. head of a person) and identified by a random ID.
PRO Tip: While the technology tracks an object based on Random ID, the solution can be adapted to Location Marketing (Opt-In Required) or Location Analytics (Anonymous)
Here's what everyone wants –
Customer Tracking (Location Marketing with Device-Based Real Time Tracking)
Location Marketing deploys ads and promotions based on the location of the consumer's mobile device.
Google "Near Me…" is an example of real-time customer tracking.
Location-Based Marketing (customer tracking) solutions track a specific individual once the person had opt-in to the client-side of the application.
Here's the challenges to retailers and brands:
The consumer's consent is often to a 3rd such as Facebook and Google.
Young adults tend to have more than 1 device (which creates havoc in the data)
Older adults may not have smartphones (with no WiFi Tracking)
Some people deride real-time location tracking due to privacy concerns (me!)
Store performance requires data on all behaviors (where anonymous tracking excels)
PRO Tip: Store Performance metrics don't require the shoppers' identity. Retail store analytics are a function of anonymous tracking within zones (with sensors) or devices (with wireless technologies)
Store & In-Store Tracking with Anonymous Location Analysis relate to Retail KPIs:
Shopper Traffic to store (#Visitors)
Proximity Traffic (% Capture Rate)
Choosing Physical Store Site (Trade Area Analytics)
InStore Product Positioning (Path to Purchase)
InStore Employee Locations (Service Productivity KPIs)
InStore Live Map & Product Information (Path Analysis)
While InStore People Tracking depends on the factors of Behavior Analytics, the sales cycle starts at the point of entry to the store.
Location Analysis at the door can be done with a people counter, device-based personal tracker, or with the more advanced tracking technologies. Either way, this is the beginning of the Physical Store's Path to Purchase.
The tracking solutions can be divided into three broad categories: Sensors (@Edge) Solutions, Device-Based Tracking, and Advanced Technologies.
People Counting (Object Detection)
People Counting refers to technologies solutions that "count" the number of people that either pass a virtual line or stay inside a specified zone.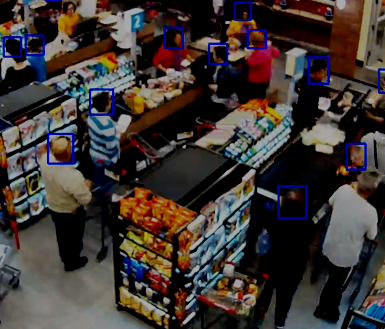 People Counting Solutions generate linear data if the object is detected, or not. Some technologies recognize the direction of the object (path), and provide In/Out counts and Dwell Time.
Common technologies include Video Analytics, Time of Flight, Infrared Beams, and Thermal Imagining.
The business benefits for people counting relate to measuring the number of visitors, sales conversion, store comparison, and mall analytics.
People Counting is estimated at $15.5 Billion market by 2022 – Fior Markets Reserach
People Counting is a subset of Geo-Location Analytics.
Shopper Tracking | Geo-Location Analytics (Object Tracking)
Shopper Tracking refers to tracking people (objects) in motion.
In addition to detecting the object, the solution needs to recognize the object. There are different levels of object recognition.
For example:
People Counting identifies "heads"
WiFi monitors Smartphone signals
BLE Beacons uses opt-in information
RFID tags and tracks product SKUs
Facial Demographics identifies gender
Biometrics captures individual faces
Vision Analytics can "recognize" images
Since the technology needs to "predict" the future track of the object, the more advanced solutions use machine learning and advanced analytics techniques.
"Location Based Services are expected to reach almost $62 Billion by 2022" – Allied Market Research
People Tracking is currently used in InStore Customer Analytics, Labor Analytics, Queue Management, Product Positioning, and Path Analysis.
Sensors vs. Device-Based Tracking
Sensors and Device-Based are often complementary solutions. Each technology has its own challenges and benefits.
In sensors, we care about the accuracy of tracking ALL objects within the Field of View.

In People Counting for measuring foot traffic and sales conversion retail metrics, the preferred technologies track people with sensors.
The wireless technologies are distinct by their range and the accuracy between "captured" and "actual" position. In that sense, the technology tracks the behavior of an individual device.
Regardless of the technology, solution, and provider, the data quality depends on the principles of Good Enough Accuracy.
The market changes as fast as these words are written. We are technology and solution provider agnostic, and the information below is just a sample of people tracking solutions
Sensors (Edge-Solution) Technologies
The distinction of sensors-based people tracking is the data processing is done at the edge. This means the sensor both captures the raw data and process the metrics.
The core objective is of a sensors-based solution is to provide analytics at the edge (in the store). The output to the corporate server is a metrics file.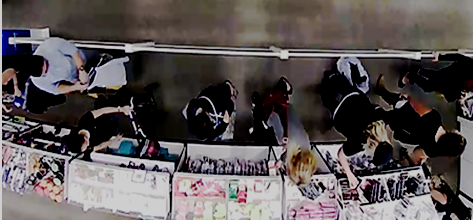 3D Stereo Video Analytics
Stereo video sensors are designed for tracking objects across the Field of View. They include a high-resolution camera and processor for the three-dimensional capture of the object. This architecture allows for accuracy of high-volume traffic, queue management, and other complex behaviors.
3D video technology is a core technology for People Counting. Solution providers include Brickstream (Flir), Eurecam, Hella, and Xovis
Monocular & Fisheye Lens
Monocular sensors capture images through a single lens camera. A fisheye lens is an ultra wide-angle lens for wide panoramic images. Regardless of the lens, the sensor process the image, and the output is data counts.
For in-door people counts, monocular devices can achieve 90% accuracy in 90% of stores. This is a cost-effective tracking solution for mall stores and in-store events. The fisheye cameras (used primarily for security surveillance) and monocular sensors are widespread.
Video analytics is found in smart cameras of Axis, Bosch, and Panasonic.
Thermal Imaging
Thermal Imaging detects emissions from moving objects. Since the technology is not sensitive to light, it can function in any physical space. The challenge is the "blending" of a person's heat signature with the surrounding environment.
In most situations, thermal sensors achieve 95% accuracy rates. And they are easy to install and calibrate.
A leading provider of People Counting Systems, Irisys, claims over 400,000 sensors installed.
Infrared Beams
Infrared Beams count when a person crosses the doorway and "cuts" the beam. The advantage is low cost and simplicity. The challenge is accuracy.
The sensors cannot recognize the direction of motion. They also have trouble differentiating between one or more people. Moreover, the system over-counts and under-counts with no data consistency. Therefore the data quality is not recommended by professional data analysts.
Time of Flight
Time of Flight detects the time of light between the camera and the object. By sending the laser beams to many directions, the sensor knows the exact positioning of objects. The laser sensors are accurate and cost-effective.
The expertise in laser will allow companies such as BEA Helma to embed people counting software directly into door sensors.
Microsoft's Kinect is also designed with Time of Flight. It detects motion, body-type, and facial features, within 1 cm depth and 3 mm in width.
Structured Light
Structured Light projects a known pattern on a scene. An array of lights strikes the surface and calculates the depth and surface of objects. People Tracking requires Structured Light 3D Scanning.
Companies using this technology include Apple and Amazon
Raspberry Pi Tracking
Open Source Raspberry Pi can be adapted as a people tracker. This is a low-cost solution but is challenged by accuracy and support.
Specialized middleware integrators, such as Enliteon, provide a packaged solution for people counting and tracking.
Device-Based (Personal) Trackers
Device-Based Solutions are defined by their core assumption that the device represents the behavior of a specific individual.
This is the distinct difference between sensors and devices. The sensors generate information on a Field of View. The capture of wireless signal from the device provides data on the path of a single person.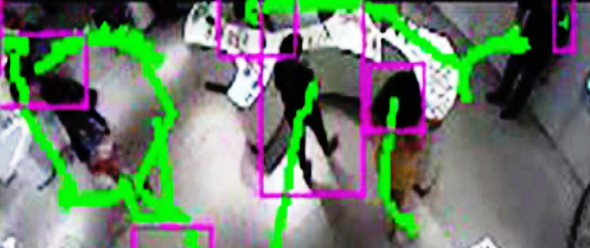 As a result, these solutions have both marketing and analytics benefits. And in that sense, assessing the value of the tracking solution starts with the question – is the business benefit depends if the customer opt-in the application.
GPS Personal Tracker
Global Positioning System (GPS) is a network of orbiting satellites. GPS tracking is build-in the Apple and Android operating platforms.
In 2015-17, Google's location-based queries based on Near Me grew 900% (see above). And retailers can subscribe to Google Store Visits.
WiFi Location Analytics
WiFi is a standard for Wireless Local Area Network (WLAN). Antennas capture the radio waves from mobile phones and cover a range of up to 100,000 square feet.
The MAC Address is unique per device and therefore we can assume it represents an individual customer. The data output depends on the customer's phone and activation of WiFi. As a result, the analytics is structured for sample data.
WiFi suffers from the challenges of location accuracy. But WiFi customer tracking is ideal for large venues such as airports, stadiums, and Shopping Malls.
WiFi tracking providers include Euclid Analytics and Cisco's Meraki.
BLE Beacons
Bluetooth Low Energy (BLE) Beacons function in the wireless range between NFC (payments) and WiFi. Beacons are ideal for secure communication with customers. Beacons are the preferred tech for in-store customer tracking.
Beacons face two core challenges. First, customers need to opt-in to the retailer's application or QR (square barcode). And second, GPS/WiFi technologies are improving fast to work indoors.
The Beacons Ecosystem includes Google's Eddystone and Apple's iBeacon platforms. And Location Marketing providers Swirl and InMarket.
UWB (Radar) Location Tracking
Ultra Wide Band (UWB) functions in low-energy, short-range, and high-bandwidth environments. UWB comes from Radar Imaging and is entering the retail space.
UWB core advantage is accuracy, which can be 5 to 10 cm. Therefore, it is ideal for specific analytics of InStore Customer Customer Journey.
RFID Location Tracking
Radio Frequency Identification (RFID) uses electromagnetic fields to identify and track tags attached to objects. In retail, RFID is primarily used for supply chain and loss prevention applications.
As RFID adoption rate gains momentum, retailers are looking for more benefits. As such we see shopping carts and employee access cards outfitted with RFID.

Advanced Technologies
In Advanced Technologies, the tracking of people is a side benefit from the solution. These advanced technologies are part of Big Data in Cloud ecosystems. In physical stores, they are IoT. And they will merge the online and offline ecosystems.
For people tracking in physical stores, there are two core trends:
Behavior Analytics is defined today by Location and Time data. It will be expanded to include facial sentiments and body motions.
Loyalty Opt-In will allow retailers to develop Growth Loops for VIP customers. This trend has a profound impact on the future of retail.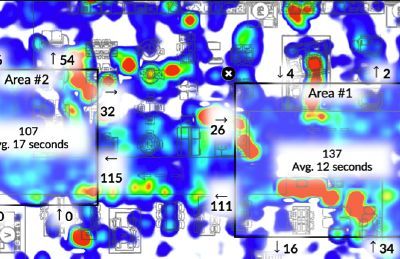 Vision Analytics
Vision Analytics works by recognizing patterns in images. The Deep Learning AI software translates the images to data, context, and action. The output is a qualified description of the image, such as Stanford University's cat.
Vision is a core technology in Driverless Cars and Image Recognition (Embedded Vision Alliance). It's used by Amazon, Baidu, Facebook, and other companies to tag and track products and customers. Vision startups such as Modcam and Aura Vision Labs show this advanced tracking technology has vast potential for physical stores.
Biometrics Facial Recognition
Biometrics facial recognition works by comparing a captured image to a given image within a database. Biometrics is often used for security.
Due to privacy concerns, the common application is demographics. The cameras process facial features and the output is gender and age.
If customers opt-in to a loyalty program and provided their image (Selfie), the advanced biometrics identifies those people in motion. Biometrics is deployed in Amazon Go and promoted by startups such as FTS Biometrics.
Augmented Reality
Augmented Reality "adds" images, sounds, and text, to what we see in the real world. The personalization is driven by powerful analytics engines. The craze over Augmented Reality started with Pokemon Go. And you see the future in the AR Dressing Rooms of GAP.
Voice is yet another technology that generates location-based data.
Even if retailers are losing the direct touch online, the physical store offers the opportunity to connect with the customer.
Anonymous Geo-Location Analytics
Location Analytics refers to insights gained from the person's location. This includes footfall traffic to the physical store, proximity traffic, and InStore positioning in context to layout (path analysis), checkout areas (queue management), and products (customer engagement).
Global solution providers include ShopperTrak, RetailNext, and Ipsos Retail.
Vibrant regionals include Headcount and Axper in North America, Xpandretail in Dubai, Pygmalios in Bratislava, Intelligenxia in Chile, and Unicross in China.
50-60% of perceived value is captured from location-based data – McKinsey Global Institute
In-Store Customer Analytics
Amazon and Alibaba opened the eyes of many traditional retailers to the value of knowing your customer in detail. As a result, physical stores are being empowered by technologies to achieve (web-like) InStore Customer Analytics.
The search for seamless analytics has two impacts on solution providers:
Big software companies such as IBM and Intel are creating ecosystems of connected solutions and advanced analytics. In retail, this is the Internet of Things (IoT) for tracking shopping behaviors.
Marketing agencies are infusing their data-driven software and services into partnerships with brands and retailers. Startups such as InReality in Atlanta and Nurama in Brussels are focused on InStore Customer Analytics.
The Rise of Behavior Analytics
The disciplines of Behavior Economics and Data Science are starting to play a role in retail. New data-based specializations are emerging. And a class of data-savvy retailer executives is rising to the top.
As technologies that track people in real-time become cost-effective, we will see a more narrow profession dedicated to how people behave in the physical world. This is Behavior Analytics.