Mall Analytics measures the quantity and quality of the relationship between malls and stores.
The future of malls includes tracking technologies and Digital Malls. Mall owners can increase revenue by optimizing Anchor Tenants and Tenant Mix. And retail stores can increase visitors, conversions, and sales opportunities.
KPIs for Tracking Customer Behaviors in Shopping Centers: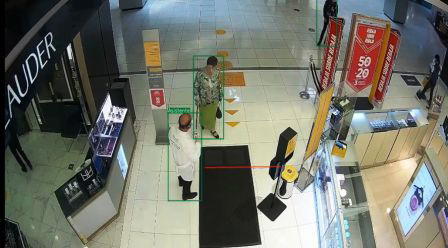 Mall Visitors
Path Analytics
Proximity Traffic
Capture Rate
Sales Conversion
"You share data if it gives you competitive advantage. Otherwise, you don't share it".

Ronny Max, "The Right Formula: Measuring Physical-Store Performance in an Omni-Channel Age" by Joel Groover, Shopping Centers Today, November 2019, ICSC.org
The Future of Malls & Retail Trends in 2021
The Covid-19 pandemic changed the balance between mall owners and retail tenants.
The future of shopping malls depends on managing tenants better, serving shared and social services, and operating across the physical to digital malls.
Here's what new:
1) Diversification in Anchor Tenants & Tenant Mix
Store closures and bankruptcies among department stores and apparel retailers are the accelerators to the transformation of shopping centers.
To protect survive and thrive in the future, mall operators are diversifying by attracting grocery and healthcare tenants.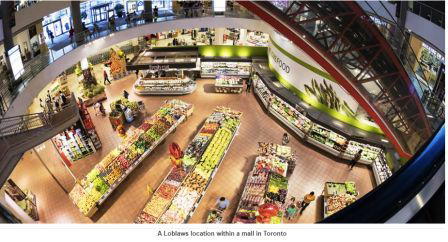 The trends include:
Flex Leasing: short-term pop-up stores, revolving storefronts, showrooms, co-working areas in shopping malls.
Non-Retail Tenants: for example, live events, theme parks, and gaming parlors segmented by customer demographics. Non-retail tenants serve as innovative Anchor Tenants.
Retail Entertainment: for example, a sporting goods store with a fitness studio or experiential dining with celebrity chefs and farm-to-table courtyards. Retail entertainment plays in real-estate development projects.
2) The Future of Malls is Development, Destination & Digital
As mall owners invest in failed retailers and become a destination, the shopping malls connect directly with visitors.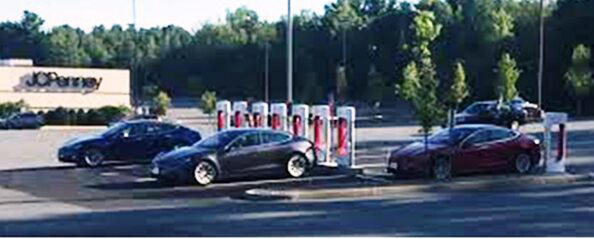 For example:
Interactive Experiences: smart self-service kiosks with ads, smart displays with in-mall navigation, and augmented reality zones.
Shared Services: click-and-collect, curve pickup, free transportation
Smart Parking: charging stations for electric vehicles, pickup zones for ride-hailing apps, self-driving cars, and parking management.
3) Digital Malls: Omnichannel solutions for shopping centers
Digital Malls are online applications for physical shopping malls. They offer mall owners the ability to connect directly with their visitors.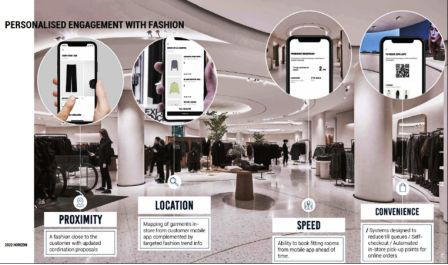 As mall owners invest in failed retailers and become a destination, the future of shopping malls is to connect directly with visitors.
As mall management becomes more technically and analytical sophisticated, the foundations of mall performance also evolve.
Let's look closer.
---
Digital Malls: Online Shopping in Real-Life Shopping Centers
What's a Digital Mall?
Digital Malls are online platforms that connect shopping malls and their visitors. Mall visitors can access stores, products, and real-time navigation. Just like Digital Twin solutions, Digital Malls offer a seamless customer journey.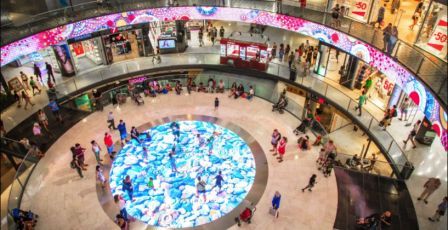 Why Digital Malls important?
With Digital Mall solutions, mall management can offer services such as free transportation and curb pickup to its visitors. It also increases revenue from tenants with shared services and store advertising.
How do Digital Malls work?
Shopping malls are going through a digital transformation similar to retailers. By deploying in-mall sensors to tag physical items and track people's behaviors, the Digital Mall solution offers visualized dashboards and generates insights with advanced analytics.
Digital Malls are the evolution of shopping centers to "Destination Malls."
Mall Management: ICSC Classification & Foot Traffic Analytics
Real-Estate Investment Trusts (REITs) own many shopping malls.
Malls depend on network effects. It means the in-line stores that generate the bulk of revenue depends on the anchor tenants' foot traffic.
The loss of a big department store such as Macy's or a JC Penney changes the incentives to visit a mall for shopping. People can easily shop for a product or a brand online.
Instead, the malls themselves had evolved into a destination.
ICSC Classification
The International Council of Shopping Centers (ICSC) classifies shopping malls in Tiers A, B, and C, based on Sales per Square Foot.
In the United States, Tier A gets over $500 per Square Foot, Tier B earns $300 to $500, and Tier C (sometimes C and D) takes in less than $300 per Square Foot.
For example:
Super Malls: About 10% of United States malls have over a million square feet in size and a trade area close to 25 miles. These are the malls with theme parks as Anchor Tenants, brand name retailers in the Tenants Mix, and a wide variety of retail, food, and entertainment. In South Florida, the Sawgrass Mall and Aventura Mall are examples of branded destination malls.
Lifestyle Malls: Lifestyle malls combine a shopping center for traditional retailers with leisure amenities designed for upscale consumers.
Bal Harbor Shops, for example, is a Lifestyle Mall.
High Street: The term relates to the main street of a town or streets that specialize in retail; for example, Michigan Avenue in Chicago and Greene Street in New York in the United States.
Metro Mall: There is also innovation in the concept of the mall itself. Metro Mall, for example, refers to grocery, shops, and restaurants within an apartment complex.
Factory Outlets: Outlets are factory stores for brands that practice the Direct-to-Consumer business model. Outlets seek the discount shopper and can attract visitors from 75 miles away.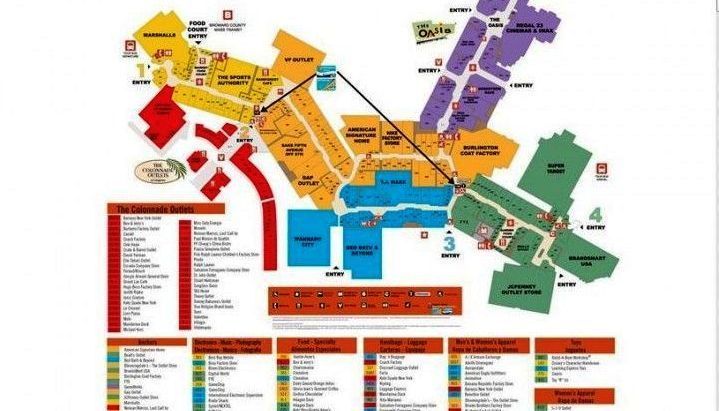 Community Malls: Neighborhood centers include 15- 50 stores, supermarkets, and specialty discount stores such as home goods and toys. They serve a trade area of 5 miles.
Strip Malls: Most malls in the United States are strip malls where a shared parking space connects a couple of stores in a row.
According to ICSC, 20% of shopping malls generate over 72% of all sales.
Retail Mall Stores
To retailers, the value of shopping malls is in visitor demographics and foot traffic:
For retailers, the value of a mall lies in its ability to generate sales opportunities. In practice, it means that the trade area and visitor demographics should correlate to the retail brand.
For example,
Retail Segments: The top shopping mall in the United States, Bal Harbor Shops, gets much of its revenue from wealthy tourists. But the busiest times are at the weekend when affluent locals flood the luxury retail stores and celebrity chef restaurants.
Visitor Segments: If a shopping mall adds gaming arcades and cinemas, it attracts teenagers and young adults. Starbucks attracts professionals. Food courts aim for families on a budget. Gourmet supermarkets attract urban and high-income shoppers. You get the point.
Buyer Segments: An often missed point is that malls' challenge is to attract visitors who pay. A teenager may desire a manicure, but her mother is the one who pays. A retail store will get different proximity traffic if near an Apple store or a supermarket.
Because retailers lease stores on shopping malls based on projected demand and visitor segments, the statistics of retail mall stores start with foot traffic data.
Foot Traffic Statistics
Foot traffic systems for shopping centers are often a combination of high-accuracy sensors at the door and WiFi tracking for Path Analytics. You can find these hybrid solutions in malls from Canada to South Africa.
How to measure mall foot traffic?
Mall foot traffic statistics are either generated by the shopping center (by deploying people counting technologies) or bought in a benchmark index from solution providers such as Ipsos Retail and ShopperTrak.
In the future, Digital Mall solutions will include real-time navigation, shared services, and advertising of retail trends. You would know the location, time, and other customer behaviors.
Regardless of the tracking technology and accuracy, there is a negative correlation between mall traffic and sales conversion in stores. It means that more mall visitors do not necessarily translate into more store sales.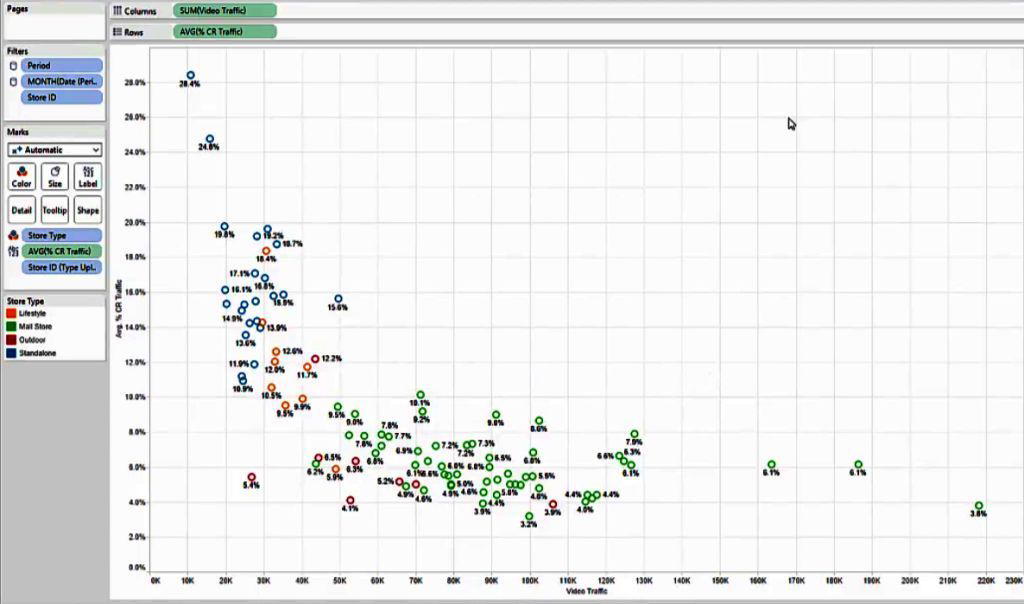 Mall operations are an economic paradox. A 3,000-square-foot toy store depends on foot traffic from a 200,000-square-foot Department Store, but the mall's operational health relies on the higher square-foot revenue generated by smaller stores.
As Department Stores lose luster, mall operators search for new types of Anchor Tenants.
Anchors Tenants: The search for the future of shopping malls
Anchor tenants are big brand businesses that rent space in shopping malls for deep discounts in return for long-term leases and attract mall visitors. In the United States, retailers such as Macy's, JC Penney, and Nordstrom can account for 45% to 70% of space in a shopping mall.
As department stores wobble, new anchor tenants emerge. For example, 75% of the top 100 shopping malls have an Apple Store.
And yet, malls may not need anchors.
An exciting trend is the use of public spaces as anchors. While open spaces are free, they invite visitors to stay longer in the mall. And people who stay longer tend to buy more.
Another way to create shopping excitement is with specialty clusters. For example, you can find a row of luxury stores in the super discount Sawgrass Mall or side-by-side cosmetic stores in Prague's upscale mall.
The Covid-19 pandemic lockdowns and loss of traffic escalated bankruptcies and store closures. And due to co-tenancy lease clauses, the stores that stayed open are paying less rent.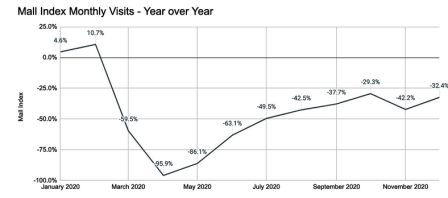 As a result of the avalanche in lost revenue streams, mall owners are trying to save retail.
More importantly, the REITs invest in technology and advanced analytics to optimize their Tenant Mix.
Tenants Mix: The Transformation of Shopping Centers
Tenant Mix is the synergy of retail and services that creates a holistic customer experience, maximizes foot traffic, and increases tenants and mall management revenue.
Building a shopping mall requires a significant upfront investment.
Tenant Mix is revenue management.
The future of malls is a tenant mix that increases consumer spending, entices more extended mall visits, and informed lease negotiations with retail and non-retail tenants.
For example,
Include more non-retail tenants based on local demographics
Assign more multi-purpose areas for tiny stores
Negotiate more short term leases for pop-ups
Provide shared services such as curb pickup
Offer percentage rate rental options
Mall management can deploy advanced analytics to make better-informed decisions, specifically in revenue management.
Here's an example by McKinsey & Company on how shopping malls use advanced analytics:
In the future of mall analytics, watch these trends:
Halo Effect: How a specific store impacts visitor and sales trends in nearby stores
Omnichannel Estimates: How the tenant's online sales are part of the mall's revenue
Shared Data: How much to share with tenants during lease negotiation on terms and rent
"When a mall operator uses advanced analytics to select tenants, optimize mall layout, and determine rents, its revenues can rise by 20 percent."

McKinsey & Company
Mall Analytics: Mall-To-Store Sales Funnel
By deploying people tracking technologies, mall operators can capture where visitors are, how long they stay, what they do, and who they are.
Mall Analytics includes:
Path Analytics generates location and time-based metrics.
Facial Demographics for attributes such as gender and age
Digital technologies such as eye-tracking and location-based marketing
Introducing the mall-to-store sales funnel:
Let's dive in:
1. Mall Visitors
Mall Visitors reflect the sales opportunity offered by the shopping center to its tenants.
Technically, you measure the mall's foot traffic the same way you count visitors in a retail store. Often, mall operators deploy high-accuracy people-counting sensors at the doors.
In other words, the Mall Visitors metric is the sum of all foot traffic from all entry and exit points to the shopping center.
MALL VISITORS = SUM OF ALL FOOT TRAFFIC @DOOR
'Mall Visitors' is a core metric for most Retail Traffic Indexes and Competitive Benchmarks.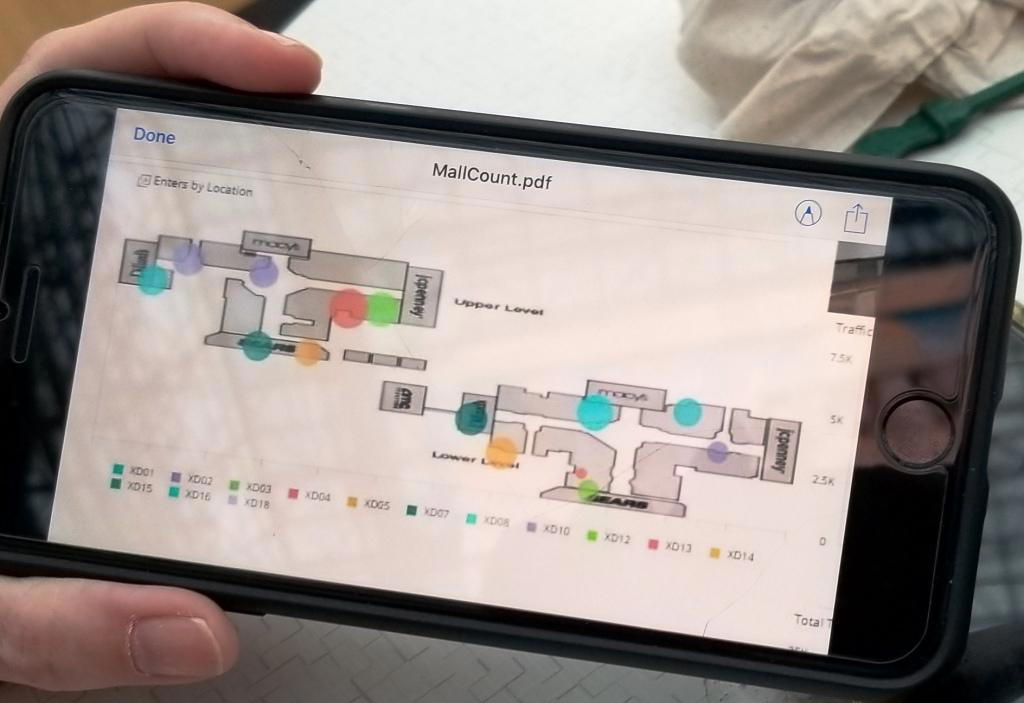 2. Path Analytics
Path Analytics combines location and time-based metrics to measure where visitors are and how long they stay. Therefore, Path Analytics is a function of the number of people staying in a (virtual) zone and how long they stayed.
PATH ANALYTICS = [PEOPLE (COUNTS), STAY TIME (SECONDS)]
You often see mall path analytics as a visual heat map, and yet, the data that matters is in the details. To identify opportunities, look for a correlation between traffic flows to the mall, proximity to stores, and store sales.
The business benefits to mall operators include:
Marketing: location-based marketing allows mall operators to send real-time promotions to the smart devices carried by the mall's visitors based on their location inside the shopping center. Ads in mall apps offer mall management an additional revenue channel.
Operations: location analytics helps mall operators to measure traffic flows, for example, in food courts and mall corridors. Path Analytics is essential for malls offering shared services such as curve pickup and free transportation.
Navigation: Because digital signage is typical in shopping malls, you could also offer in-mall navigation to visitors.
If you're involved in lease agreements, you should care about Mall Path Analytics.
3. Proximity Traffic
Store Proximity Traffic captures the value of the sales opportunity of the store's location. For foot traffic to viable, people need to pass close enough to the store.
PROXIMITY TRAFFIC = # PEOPLE PASSING NEAR STORE
Here are some topics to address:
Not all stores are alike: The nature of the store impacts the analysis of proximity traffic value. A coffee shop is not a toy store, a supermarket is not an apparel store, and a department store is not a movie theater.
Store Entrances: There is a difference between stores with a single entrance and those with two or more. In such stores, traffic flows include people who enter and exit the parking lots. This irrelevant traffic will lower sales conversion.
How close is close? In camera-based traffic sensors, the challenge is in the Field of View. The tilt of the sensor can be 1 or 3 feet. Therefore, the people counting solution should define the details of Proximity Traffic.
For example:
Case Study: How Apple Store increased Proximity Traffic in Barcelona.
A Barcelona Mall had minimal traffic on the 3rd floor. After an Apple store opened up, the traffic flow inside the shopping center changed. Overnight, retail stores next to the Apple store enjoyed the most lucrative location in the mall. By being nearby Apple, the retail stores increased their proximity traffic by double digits.
Store Proximity Traffic is critical in leasing agreements because it quantifies the in-real-life demand for its physical location.
4. Capture Rate
Capture Rate measures the ability of the store to attract visitors from people who are passing nearby. The Capture Rate is the ratio of Store Visitors to Proximity Traffic.
% CAPTURE RATE = STORE VISITORS / PROXIMITY TRAFFIC
The Capture Rate helps stores to evaluate the brand's value, marketing promotions, and window displays.
You should know:
Store Windows: with advanced AI solutions such as eye-tracking technology, you can evaluate the impact of store windows with Branding, Visibility, and Attention metrics.
Digital Signage: with embedded technologies such as facial demographics, digital signage solutions can better target marketing promotions to real-life shoppers.
Lease Lines: storefronts in shopping centers have a variety of definitions. For example, some stores have displays on the leased lines that allow shoppers to stand in the corridor.
For example,
Case Study: How a Jewelry Store attracted more visitors by analyzing the Capture Rate
A Jewelry Store sat in the corner between two major arteries at the heart of a busy shopping mall. The store has open displays where people could access from two entrances.
Proximity Traffic was high on both sides of the store, but most visitors entered through the right side. The left side of the store had a low Capture Rate. The store tested various options, including changing merchandise, adding digital signage, and assigning staff to the left counter.
As a result, the number of visitors increased on the left entrance. The retail trend was a 15% increase in year-over-year sales.
5. Sales Conversion
Sales Conversion Rate in retail stores measures the ability of the store to translate opportunity into sales. It is the ratio of buys to browsers.
Technically, Sales Conversion is the number of transactions divided by the number of visitors. For example, if 10 people out of 100 visitors are buyers, the conversion rate is 10%.
While there are different ways to define Sales Conversion, the basic formula is:
% SALES CONVERSION = TRANSACTIONS / VISITORS
With Sales Conversion, retailers measure store performance, staff scheduling, and product positioning. In advanced tracking solutions, sales conversion plays an important part in building in-store sales funnels.
---
"If we have the data, you can have intelligent conversations. And that's really important. Think about partnerships, and that's true in all of the relationships because the data will give you the ability to analyze the relationship really well and it will also give you the ability to really understand how to improve."

Ronny Max, "Reinventing Malls for the AI Age" by Anupam Kundu, Towards Data Science, Medium
---