32 Experimental, Flagship & Concept Stores in New York (2019)
Experimental retail comes in many flavors, including flagship and concept stores. If you are in New York City, visit these stores to see the future of physical retail.
Concept Store is where retailers test innovative ideas to optimize the In-Store Customer's Journey. The store may have a new layout and colors design, experimental features such as coffee shop or brand curation, and interactive & people tracking technologies.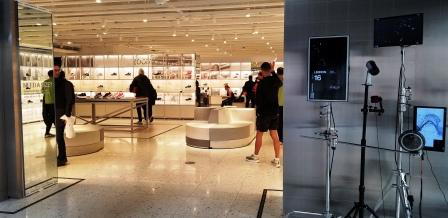 Here are the top experimental retail trends for physical stores in 2019:
NRF 2019 is designated as the "Dawn of Experimental Shopping" according to RIS News. From customer interactive technologies (i.e. Augment Reality Mirrors) to back office platforms for 24/7 shopping and delivery, the physical store is being revitalized.

Digital Retail: In Direct-to-Consumer concepts, the retailer entices customers to enter their contact information or download the brand's application for personalized offers.
Store Experience: Retailers moved away from a product-only sales model. The goal is a fun (gamification), effective (service), and engaging (technology) store environment.
Customer Research: Probably the most important trend in 2019 is using the physical store as the frontline research center.
NYC Best Concept Store 2019: Nike's new Flagship "House of Innovation"
In the flagship store on 5th Avenue (650 5th Ave), Nike revolutionized the retail/brand model of Direct to Consumer.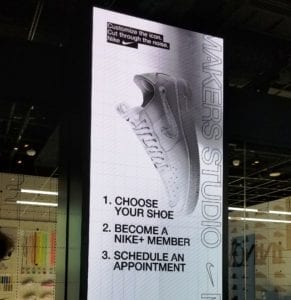 Beyond the chic design and cool vibes of urban Millennials, Nike considers the store as the "Face of Living Retail". In the store, customers can customize their shoes, scan & pay, and get expert help from the staff and Nike's fan community.
Surrounding the gigantic display that tops from first to the sixth floor, and the spiral stairway, there are digital displays that will entice you to:
Download the Nike App: AR-Based digital experience that follows you home
Get Expert Help: How to find, and customize, the perfect product for you
Deliver with Courier Service: anywhere in the city
Buy It. Try it: No questions asked return guarantee
Ask for iterations: when perfect is not good enough…
Regardless of you are Nike's fan or not, this is a magnificent store to visit. Most important, the store is a successful example of how brands should conduct market research. Working with customers to customize shoes, Nike can identify the dreams of their VIP Buyers.
Nike NYC makes real our vision of living retail — a dynamic and active shopping experience in an environment that's as responsive as digital.

Heidi O'Neill, President of Nike Direct
Featured: SoHo Store of Rebecca Minkoff
Rebecca Minkoff is a retailer that cracked the code for Unified Commerce. The sauce to the brand's success is a mix of high tech stores, discounted warehouse, and savvy online site and sales strategy.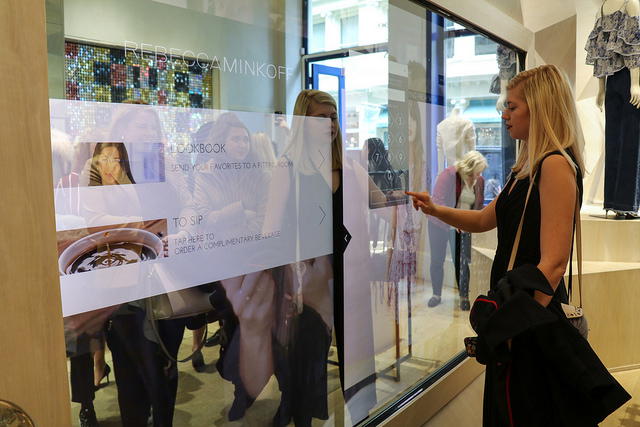 Located in Soho (96 Greene Street), the tiny flagship store is packed with high tech. The technology connects Smart Walls, RFID Tags, and Digital Fitting Rooms for a seamless customer's experience. And each step in the Customer's Journey is captured and tracked.
As you walk in, the first thing you see is a long mirror on the wall. Part touch screen, part mirror, the Smart Wall serves as the gateway to the store. Shoppers can search for products, colors, and sizes. You can ask Rebecca for her personal recommendations. And you can also order coffee, tea, or a glass of champagne.
Most important, every page entices you to enter your phone number and go to the fitting rooms. This serves two purposes. First, phone numbers are the entry to the retailer's loyalty list. Second, the fitting rooms are the store's highest level of conversion.
While Rebecca Minkoff is known for her designer bags, the focus in the Soho store is apparel. The bags, accessories, and dresses are tagged with RFID. It allows the retailer to monitor which products enter the fitting room.
Inside the digital fitting room, mirrors, lights and communication power the customer's experience. You can change the lights to see how you look in different shades. You can browse for styles. And if you need a different size, you all need is to push the call button for customer service.
Most important, the digital fitting room is a self-service checkout.
The smart fitting room takes away the friction of the checkout. During the fitting experience, customers can enter their credit cards and pay. By combining the "touch and feel" with the checkout, the retailer reduced friction in the sales process. And it works. During the first year, sales of apparel tripled.
An important benefit of the data is better incentives for the store's associates. Beyond the initial visit to the store, the staff further connects with customers. In return, the associates receive commissions from online purchases.
The Soho store serves a marketing vehicle. The store hosts a variety of events, from women groups to student programs. The retailer also sponsors street parties and parades. The flagship store is often promoted to the press as the Connect Store.
The physical store is one piece in the business model. Nearby, the retailer has a warehouse that sells discounted designer clothes and bags. And the online store serves as a vibrant and global store.
The Rebecca Minkoff high-tech store is a great example of selling fun and fashion.
From the customer's point of view, the smart store is "cool". For the retailer, the store is a way to capture personalized data.

– Ronny Max, Behavior Analytics Academy
Featured: Customer's Experience of Sonos
Sonos is the ultimate physical-store-turned-into-game (Gamification).
While Sonos sells stereos and speakers, it positions itself as a Home Sound System. The Sonos application connects multiple speakers, in different rooms, for a powerful experience. The value to the customer is the immersive sound of music.
As you walk into the store, the long corridor is aligned with sound-proof booths. The booths are designed to emulate the home. Each wall symbolizes a room – Living Room, Dining Room, and Kitchen.
At the center of the booth, there is a tablet where you can play with the Sonos Application. The software connects the multiple speakers around the booth. You can change songs, control the features such as sound, and check speakers in each room. Since you are standing in a sound-proof booth, the sound takes over.
The elegant design of the store considers elements of experimental retail.
Gamification is a successful strategy in selling to young adults, which is the core retail segment. The sound-proof booth serves as the trigger for customers to engage with the products. And the customer experience is both personal and social. There were 4 people in the group and we spend more than 20 minutes in the store.
Sonos sells speakers but their store tells the love of sound.
67% of retail winners strongly agree that the physical store will stay the "primary face to the consumer"

– RSR Research, The Retail Store 2018, from Apocalypse to Renaissance.
---
The stores are listed according to their district in NYC. I highlighted what is innovative and what to look for in each store.
Innovative Stores in Midtown
Midtown Manhattan covers the areas surrounding Times Square, Penn Station, and their offshoot streets. If you have a couple of hours to stroll around, this is a worthwhile tour to see the tourist soul of New York City.
Adidas (565 5th Ave): The flagship store of Adidas includes a track for runners, customized shirts, and bleachers in front of gigantic digital screens.
Amazon Books (7 W 34th St.): A bookstore to sell devices such as Alexa Echo and Kindles. Pricing is done through the web, with special discounts to Prime Members.
American Cover Girl (75 Rockefeller Plaza): Interactive and innovative stores for girls. In the Girl & Doll salon, dolls et hairstyling, ear piercing, and manicures.
Dyson (640 5th Ave): The new appliance flagship is both a museum and a demo store. Vacuum cleaners can be cool!
Lululemon (597 5th Ave): This sportswear flagship offers experience over a purchase, with meditation studio and Zen Pods.
Macy's b8ta (151 W 34th St.): High tech & high touch showroom inside Macy's. The store-within-store concept is revitalizing the traditional department store.
MM.Lafleur (130 W. 42nd St.): Buy your business apparel "by appointment" and a glass of champagne. Your purchase will be delivered, in a box, directly to your home.
Nike (650 5th Ave.): Nike's House of Innovation includes customized shoes, expert advice, tailoring, courier delivery and more. NYC Concept Store for 2019.
Nordstrom Men's Store (235 W 57th Street ): Nordstrom opened their first and new store in NYC as men-only. Check out the AR projected on the store's mannequins.
Sephora Beauty TIP Workshop (112 West 34th St): The focus is beauty services, with 15-minute touch-up, 45-minute makeover or 90-minute customized consultation.
Design in Chelsea & Meatpacking Districts

Chelsea and its next-door neighbor, Meatpacking district, are hip locations where trendy restaurants and nightlife replaced warehouses.
RH, formerly Restoration Hardware (9 9th Ave): A stunning new store for upscale furniture and home. Check the rooftop restaurant, wine terrace, and design services.
Samsung 837 (837 Washington): Smartphone, tablets, and Augmented Reality. A good place to chill out, eat a bite, and play with AR
Story (144 10th Ave.): An ever-changing store that rotates and curates merchandise every 4 to 8 weeks, based on unique themes. Recently sold to Macy's.

The Experimental Stores in Streets of Soho
The best shopping streets in New York City are in the Soho. This small hub of streets is full of boutiques and small shops catering to affluent Millennials and self-aspiring students. Always interesting!
Allbirds (68 Prince Street): For lovers of high-end footwear, this is a place to learn more about how to design shoes, including the open-source Sugar Zaffer flipflops.
Amazon 4Star (72 Spring St): This store displays only products that received votes of 4 plus. This is the power of recommendations in action.
Cadillac House (330 Hudson St): A car showroom, coffee shop, Council of Fashion Designers of America's Retail Lab and an art gallery live together under one roof.
Converse (560 Broadway): This store is simply beautiful. Add a customization lab, and you have a store for the hardcore fans of Converse. Design Rules!
Em Pty Gallery (51 Mercer St): Designer boutique. A beautiful example of a designer's vintage store.
Everlane (28 Prince St.): A bricks-and-mortar store with an integrated I.D. system. The wallet-free shopping experience is a "friction free" online idea.
Glossier (123 Lafayette St.): Showroom of the famed online beauty brands. The store has interactive mirrors and a unique fragrance experience.
Phluid Project (684 Broadway): This store bills itself as "the world's first gender-free store". The location is close to NYU and Parson School of Design.
RealReal (80 Wooster St.): The online vintage brand in a boutique-like location with pull-out racks. The magic comes from "personalization of scheduled appointments".
Rebecca Minkoff (96 Greene St): A retailer that cracked the code for Unified Commerce. Featured Concept Store for 2018.
Shake Shack (51 Astor Pl., East Village): Cashless kiosk restaurant serving roadside burgers, fries, shakes, beer, and more. The future of Quick Service Restaurants (QSR)
Showfields (11 Bond St. Soho): Advertised as "the most interesting store in the world", the store aims to combine retail, art, and community. 4 floors of experience
Sonos (101 Greene St): The Sonos sound booths are designed to emulate rooms inside a home. Interactive & Fun!!! Featured concept store.
Vintage Twin (543 Broadway): A pop-up vintage shop. This chic company is unique because 10% of its proceeds go to charity.
Oculus: Retail in a Unique Shopping Center
The Oculus Mall (World Trade Center) is simply beautiful. Also if you're an international visitor, the 9/11 memorial is an eye to what drives America.
Here are stores that are worth a visit:
Apple: A retailer that introduced smartphones and design to the world is now focused on social communities. There are 2 stores on each level. Always worth a visit.
Burberry: If you loved Sting's Englishmen in New York, you'd love this British Brand. Burberry was pivotal in experimenting with shopper personalization.
Casper: famed online brand for… selling mattress. Casper's way to sell a bland product that people rarely buy is a case study in online and retail innovation. Concept: Showroom for the brand.
More to Explore in Brooklyn, NYC
A/D/O (29 Norman Ave): Creative space that is a hybrid retail shop, restaurant, workspace and start-up accelerator created by the automaker MINI.
Dekalb Market Hall (445 Albee Square West): A high end and styled grocery store with a localized assortment of food to take home, or eat inside.
Narnia Vintage (672 Driggs Ave): An apartment-turned-vintage store that sells clothing, textiles, and jewelry. Gorgeous backyard.
Whole Foods 365 (292 Ashland Place): Millennial-focused supermarket featuring low prices, and digital beer experience. Payment options include Scan & Go.
The Store of the Future
Much has been said about the death of retail, but I like to think we're in the midst of a Retail Renaissance. If you remember one concept, let it be – technology changes, people don't.
Go visit. The "Stores of the Future" are already in New York.