In-Store Optimization (ISO): Increase Conversions & Profit
In-Store Optimization (ISO) is a fascinating & NEW data-driven process in physical retail…
…for Visitors, the objective is to improve the Customer's Experience
… for Store Ops, the goal is to increase in-store conversions
… and for Retail Managers, the #1 priority is to maximize profits!
Winning retailers deeply understand the unique role of the bricks-and-mortar store as the primary face to consumers.
Why In-Store Optimization is Important?
In-Store Optimization (ISO) is important because it allows you to increase sales conversions from visitors and get more value from existing resources such as products and associates.
By optimizing in-store activities and product positioning, you can correlate costs to revenue, increase the average order value, and improve calls-to-action conversions.
Let me repeat –
In-Store Optimization (ISO) is a strategy to increase the business benefits from technology solutions, specifically conversions and profits.
Regardless of personal opinions (including your boss!), the data-driven process and behavior-based analytics will optimize your store profits while improving the in-store customer's experience.
ISO is becoming feasible because of two giant trends that are converging in physical retail: the rise of Behavioral Economics and innovations in People Tracking Technologies.
Actionable ISO Techniques include:
Identify Purchase Points
Map Path Trajectory
Quantify Local Demand
Prevent Friction Points
Measure Engage Time
Monitor Service Time
Optimize Product Positioning
This list is just a sample. We use a wide variety of metrics and frameworks to optimize physical locations such as shopping centers, transportation hubs, and physical stores.
The objective of In-Store Optimization is to build Customer's Journey Maps.
---
But first a bit of clarity –
What's Conversion Optimization (CRO)?
Conversion Rate Optimization (CRO) is a system to increase the number of website visitors that purchase online. In Growth Hacking frameworks, each step in the customer's journey from entry to exit is captured, measured and optimized.
Because retailers have direct control over their website, a focus on increasing the percentage of Buyers to Visitors is the easiest way to increase e-commerce revenue.
ISO is not directly aligned with CRO, but we do share common foundations. Most important, both disciplines are rooted in building a process.
"Conversion optimization is a process. Amateurs follow best practices and don't know where to begin. Experts follow frameworks and processes."

Peep Laja, Founder & CEO of Conversion XL
What's (Bricks-and-Mortar) Sales Conversion?
Sales Conversion is the ratio of Buyers to Visitors. In a physical store, the number of visitors (people who enter the store) is a metric that captures the actual sales opportunity.
Sales Conversion, therefore, reflects the ability of the store to convert demand into revenue.

Here's an example of how the formula works:
If a store has 100 daily visitors and has 25 sales, the conversion rate will be 25 divided by 100, or 25%.
In general, conversion is the outcome of any call-to-action. And a conversion rate is the ratio between the outcome and the opportunity.
In physical retail, sales conversion is a common metric for evaluating store performance.
Why NOT In-Store Conversion Optimization?
Conversion Optimization was built from the principles of direct marketing, with the idea of improving website design.
In-Store Optimization also aims to improve the design of the store.
ISO is also about building better Purchase Funnels.
Here's the rub – replication.
There is a core difference between the online and offline store ability to replicate an idea, a process, or design. The reason is cost.
In e-commerce, the digital cost of replication is close to zero.
In physical retail, you are facing the Store Multiplier Affect.
In other words, you cannot "replicate" something in the physical world without taking into consideration the respective costs of store operations, products, and labor.
Therefore our focus is NOT only conversions, but profits!
In-Store Optimization is about profit!
"Many retailers understand the value of sales conversion in physical retail and conversion optimization in e-commerce, but today, almost no one understands in-store optimization."

Ronny Max, Founder, Behavior Analytics Academy
Why Optimization with Behavior Analytics?
In-Store Optimization puts data in context…
…How customers and associates behave
…How products and services are positioned
…And how the store is laid out and designed.
More important, the WHAT & HOW gives us the map to understand the WHY.
The context of WHY requires both quantitative and qualitative data.
Analytics, also known as quantitative data analysis, generates metrics on where and how long people stay. We know, for example, the number of visitors, proximity traffic, and the capture rate.
Behavior analysis, also known a qualitative analysis, is more subjective. We get the data from customer surveys, marketing promotions, and on-site testing.
Because we need both hard data and subjective information to build context, the framework is merged under Behavior Analytics.
---
Introducing In-Store Optimization (ISO)
As these words are written, even Google doesn't know ISO 🙂
So here it goes –
Definition: In-Store Optimization
Given finite resources and demand, ISO is a system to increase the in-store conversions, sales conversion, and the average purchase in a physical store.
ISO follows the Customer's Purchase Funnel from the point of entry to exit.
In-Store Optimization (ISO) is a process to increase profits in physical stores.
Here's the only thing you (really!) need to remember about ISO –
Technologies changes; people don't!
"I very frequently get the question: 'What's going to change in the next 10 years?' I almost never get the question: 'What's not going to change in the next 10 years?' That second question is actually the more important of the two."

Jeff Bezos, Founder & CEO, Amazon
Why Behavioral Economics Dominates Product Development & User's Experience (UX)
You may have heard about these bestsellers books – Why We Buy, Persuasion, Hooked, Nudge, and Thinking Fast & Slow.
All of these books are part of Behavior Science. By injecting psychological insights into product design and development, companies such as Netflix, Facebook, and Amazon learned how to dominate markets.
To get behavioral data from the store, ISO requires technology.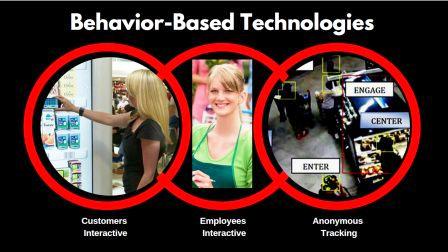 In-Store Tracking Technologies Get Better
You probably heard about Location-Based Marketing.
The Location Icon on your Smartphone means you are being tracked, and that data is sold to create targeted marketing promotions.
In the physical store, we use a wide variety of tracking technologies.
There are two ways to think about technology solutions – behavior and tracking categories.
Behavior Categories divide the technologies based on action:
Customer interactive technologies, such as smart mirrors and self-service kiosks, require action on the part of the customer.
Employee interactive technologies, such as tablets, are managed by on-site staff. These solutions provide employee training, task management, and customer service.
Anonymous Tracking technologies are used to track ALL customers, employees, and product behaviors within a virtual zone.
Tracking Categories look at deployment method and innovation:
Sensors (@Edge) technologies such as video, thermal and time of flight.
Device-Based Tracking tech such as WiFi, GPS, BLE, UWB, and RFID
Advanced Technologies such as Deep Learning Vision and Augmented Reality.
In brief, People Tracking Technologies generate data on where and how long people stay in a specific location. Beyond facial demographics, the newly emerging technologies are also looking at gaze recognition and emotion sentiments.
"Retailers clearly believe that consumer intolerance of an impersonal shopping experience is their greatest threat. That overall angst about consumer dissatisfaction is the driving force behind retailers' interest in location-based intelligence."

RSR Research, Location Intelligence in Retail: The Value of 'Where' (February 2019)
Optimization Strategies: 3 Case Studies
I often start my sessions with retailers and solution providers by learning more about their strategy. Then we identify potential optimization projects.
The rule of thumb of translating a strategy to tactics is Go Narrow!
The better (and more specific) you define your business objective and how you will measure failure or success, the better are the results.
Here are 3 examples of optimization projects:
Analysis of Proximity Traffic (7% Increase)
Tell me if this sounds familiar –
A telecommunication retailer had 2 stores in the same shopping center.
The Front Store was located close to the main entrance and had a relatively high volume of proximity traffic. The Back Store, on the side of the mall, had about half of the proximity footfall traffic volume.
But the Back Store's Capture Rate and Sales Conversion were significantly HIGHER than the Front Store.
Why?
After monitoring the mall stores analytics, reviewing Google My Business reports, and surveying the store managers and customers, we found out –
Customer Intent: people who visited the Front Store wanted to see new smartphones. While people who entered the Back Store wanted information on services.
Buyer Segments: the composition of visitors to the Front Store mirrored the shopping center demographics. The people who went into to Back Store were older couples.
New Accounts: people who want to open an account do so because of two primary reasons – they want to switch from another company, or they want to add an account. Regardless of the reasons, the Back Store was prepared to address these challenges.
The analysis of traffic quantity (number of footfall traffic) and quality (buyers intent) led to changes in both Front and Back stores.
We changed the design of the stores and the metrics to monitor.
As a result, the core metric of "New Accounts" increased by 7%.
Target a Buyer Group (18% Increase)
Here's a puzzle…
What happens when your marketing promotion is so successful that it actually hurts sales?
…Everyone gets angry and no one knows who to blame.
This is what happened to a jewelry brand.
On Valentine's Day, they come out with Get 1 Buy 1 promotion.
The outcome was almost double the number of daily visitors. Specifically, most visitors were young adult males who wanted cheap presents to their girlfriends.
The regular customers (women in their 30s to 50s) stayed away.
As the end of the day, revenue was less than the normal till.
The problem? Not understanding the Buyers Behavior
The story does not end there…
2 years later, the retailer ran the exact same promotion with huge success.
The difference?
They targeted Girlfriends.
Turns out when a girl shops with her girlfriend, they both buy more.
This time the Buy 1 Get 1 promotion targeted young women.
And the women came.
And the girlfriends bought.
And daily sales increased by 18%
Design Store Layout (24% Increase)
Here's another situation I often see…
The General Manager tells you that he wants the store to be "this way", and you disagree.
What then?
This project started after an argument between two senior executives about the design and location of Beer & Wine department.
Their disagreement was based on opinions. It became personal, and toxic.
The Chief Information Officer (CIO) asked for help.
We offered to compare between two concept stores, with 1 core difference – Beer & Wine department.
The data from the path analysis and stay time analysis was conclusive.
In West Store, the Beer & Wine department was located at the end of the store. It was huge. And it was beautiful. But only a fraction of customers came.
This is a challenge of Local Demand.
Nothing helped much. Not marketing promotions. Not in-store signage. The issue was in the way the store layout was structured.
In the East Store, Wine & Beer were in the front aisles. With about 50% of the number of items, the sales conversion was significantly higher.
A decision for the remodels was based on profit.
The Beer & Wine design and product positioning in the East Store generated bigger baskets and more sales than corresponding "this way" in the West Store.
The supermarket remodel increased year-over-year sales by 24%.
3 Simple Steps to Optimization Strategy
A question that often comes up is…
How do I start with ISO?
In-Store optimization (ISO) is an emerging discipline. In a new field, it is difficult to narrow down the best way forward.
Expertise helps, but what worked with one client often does not work with another retailer.
Optimization is a data-driven process
And therefore we can point to a working strategy.
Before the technology (and getting excited over that machine learning algorithm) …
…Before the analytics (and the endless pursuit of more metrics & features) …
…Start with these 3 steps:
(The examples are retailers who optimize for success)

Step 1: Identify Your Core Customer
It's stunning to find out how many retailers do not know their core buyers.
If you have one thing that you should do (today!) is to ensure everyone in your company knows the attributes of your core customer.
It's Sugar is a specialty retailer that sells candy and sweets to kids.
The company faced serious competition from the likes of Amazon and Walmart, to bigger and better specialty retailers in its space.
The strategy shifted from price to value, by selling "sweet cravings" to adults. The execution included a pivot in marketing and stores.
Store traffic and sales conversion increased, leading to 30% increase in revenue.

Step 2: Target by Customer Segments
Not all customers are alike.
Sounds simple enough, but many retailers have yet to adapt their store layouts, product displays, and in-store marketing to reflect their variety in their customers.
Here's a retailer I found in Amsterdam that does segmentation so well:
Decathlon is a European sports store. Not only each aisle represents a different sport, but also the displays are focused on benefits.
If you're want to learn how to ski, here are the sport accessories for you –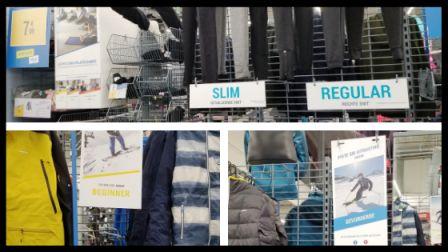 Step 3: Research Products & Services for 1 Buyer
Tier-1 retailers are creating ecosystems of partnerships and brands. They are also connecting directly with their consumers.
Nike's House of Innovation is an example of the Direct-to-Consumer business model. in the store, you can –
Download the Nike App: AR-Based digital experience that follows you home
Get Expert Help: How to find, and customize, the perfect product for you
Deliver with Courier Service: anywhere in the city
Buy It. Try it: No questions asked return guarantee
Ask for iterations: when perfect is not good enough…
Beyond the glitz, the "true" innovation is letting customers customize their shoes.
Think about this for a second –
Nike can spot early trends in the sole platforms, colors and shapes, and why customers want to buy shoes by actually selling shoes!
Amazing!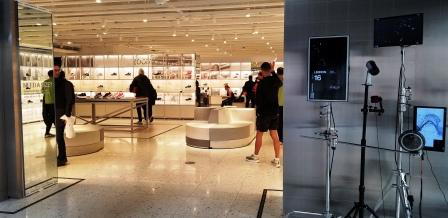 As you see from the examples above, there are many ways to optimize stores. If you want to see experimental and concept stores in action, walk this stores tour in New York City.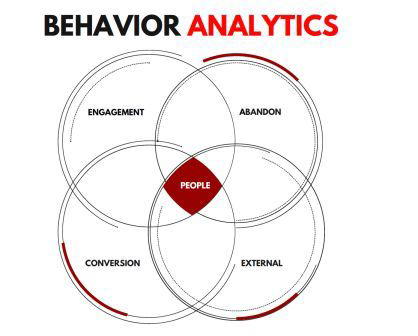 Learn more about In-Store Optimization in the FREE course Behavior Analytics 101.
Get More Buyers to Buy More
Regardless if you are a traditional retailer, online marketer, or a technology provider, today's retail is about optimizing delivery channels, supply chain, and customer loyalty.
Here are counter-intuitive statements –
Retail is about marketing personalization, not products & services
Customers will have more options but also be more loyal to brands
Technology will change the physical store, not the essence of retail
In-Store Optimization (ISO) is the secret to increasing conversion rates and profit in physical retail.
Most important, In-Store Optimization requires the mindset of a Growth Team.
Our motto is – research, test & optimize.