Calls To Action in Physical Stores
Calls To Action (CTA) are well defined concepts in the digital world. Not so in Physical Stores. Too many retailers don't measure even the KPI of Sales Conversion. Regardless, Calls to Action do exist in stores. That's because Conversion measures an outcome.
In Optimization, we differentiate between the elements of Engagement (what customers do) and Conversion (what retailers do). To understand what retailers can do, the first question they need to answer is – whose and what behavior are you trying to change.
The Retailer's Calls to Action
Conversion measures actions. In physical stores we often talk about Sales Conversion, which means the ratio of people who bought to total number of visitors.
Optimization projects we take a page from Online CRO.
Online conversion occurs when the customer clicks on a defined Call To Action. Our challenge in physical store projects is to identify and narrow such calls to action.
Once you start thinking in terms of conversion, the process of choosing products, marketing, and services, is much easier to do. In other words, the element of conversion refers to what retailers do to generate sales.
What moves the sales needle?
According to a recent study by IHL Group, if you are looking for a single technology it would be WiFi for Associates.
The most talked about solutions – Omnichannel, Supply Chain, Order Management, Social Media, Real Time Loyalty Programs, and even Mobile POS – all have a proven ROI of around 100%.
Giving WiFi to the Store Associates multiplied sales by 7.6!
This is HUGE. The question is why, and the answer is the human factor.
This counter-intuitive insight makes much sense when you remember that retail is about people. And the physical store has a strong social bias. Free WiFi helps the associates to give better service with product information, finding items, and mobile checkout.
WiFi also empowers the associates themselves with easier scheduling, training, and even task management. If you go deeper, you'll find out that giving broadband capabilities to local stores helps retailers to create Unified Commerce. With broadband we can combine the digital and the physical. Moreover, we can create a continuous feedback loop between corporate functions and local stores.
Optimization is the process of doing more with the data you already have.
It does help to have more data. A great example is product tracking with RFID. Just by increasing inventory accuracy from the common 70% to 99%, we can see quick returns through Out-Of-Stock, Shrinkage, and Fulfillment situations. Macy's claims ROI within months.
One of my favorite project themes is pricing. They say pricing is a combination of art and science. There is much truth in that. Yet with Machine Learning AI, determining the optimal price points is becoming more scientific. This is what behind the talk about installing Digital Shelves and applying Dynamic Pricing Solutions.
The trick with such technology is good guidelines. In Optimization, we distinguish between frameworks and rules. We don't like static rules. We do like pricing models.
For example, a "trendy" product should be sold at premium pricing, while "not sellable" product should be analyzed for segmenting and promotions. In optimization projects, we don't start with promotions we start with Power Pricing.
The same process works for other facets of the store, specifically visual design. Beyond product design, we encounter elements of design inside the store. In Visual Merchandising, we test product positioning. With InStore Marketing, we monitor signage and brand colors. We also test the effectiveness of Clearance racks, signage, and products.
Optimization projects amplify communication between the corporate function and stores.
By far, the most effective sales tactic in retail is turning your store associates into Brand Ambassadors. Most of us have at least one memory when you went into a store with little intent to buy and came out without money in your wallet. This is the myth of a great salesperson.
The hard truth is with training and tools, associates can be powerful. And if your associates like to work in the store, customers would like to come back and buy more. This cold calculation of profit was the reason Walmart added a billion dollars to the paychecks. This is why Costco pays $25 hourly rates.
Good people make good companies.
The Vitality of Active Zones

"Active Zone" is a good example of measuring a well-defined outcome.
Zones are virtual areas we create with sensors. One example is the Service Zone, the customer's side during service. And the zone is Active when people stand or move inside the virtual area.
Active Zones can be found in checkouts, service counters, fitting rooms, and other locations. The definition relates to any limited area where we can detect if a people are present or not.
The business case for Active Zones is productivity. If people are not using the zone it means the asset is idle.
In other words, when a cashier is idle this is an under-used asset. In the case of a service zone, it does not make any difference how many people served at the same time. The Buying Group in this case has no meaning. Active Zone monitors if there is, or there is not, activity in the zone.
We use "Active Zones" to A/B Test specific Calls to Action.
Case Study: Service Counter in a Luxury Store
If the sensor detects a person in the customer area the zone is Active. And then we measure Service Time and Idle Time.
We can also calculate Active Rate, which is how much of the time the zone was active. In this context, Active Rate captures the productivity of the service zone.
We can play around with the size of the zone. This will impact the level of interest. For example, recording pass or stop events depend on how large is the zone.
Another element to consider with large virtual zone is social interactions. For example, couples have different behaviors than mother and child.
Case Study: Monitoring 2 Mirrors.
With Active Zone, we tested 2 mirrors in a department. One mirror is on the right and the second is in the left of the zone.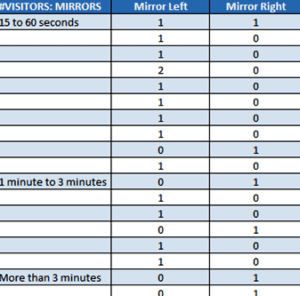 We can analyze the data from different perspectives. In demand analytics, we measure how many people visited the department. And we count the number of people passing or stopping in front of each mirror, and when.
And we can track for returned visits. One person, for example, visited the left mirror twice. This is a signal of a higher intent to buy.
Another factor we can test for is the way people approached the mirrors. This bodes the question what is the optimal location for each mirror.
Bringing It All Together

By their nature, optimization projects are puzzles. The theme among retailers is the question of how to test decisions. With a clear definition of Call to Action and relevant conversion metric, we  improve physical stores.